competitive exams syllabus
competitive exams syllabus : Are you trying to gather syllabus for competitive exams ? Then you are in the right place in govt exams syllabus page. Here in this page you can get any type of govt exams syllabus. Through this you will come to get an idea about the syllabus for various government exams. In this page you will have syllabus of upsc , syllabus for group 1 , syllabus for group 2, syllabus for bank exams, reasoning syllabus, exam syllabus for railway and many.
Exam syllabus for all government Jobs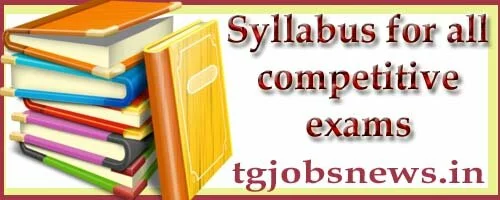 In detail you will have for this bank exams syllabus like maths syllabus for all competitive exams , English syllabus for all competitive exams which means you will have subject wise syllabus description also. Hence, definitely you will score good marks in all govt job exams. And also you can download that syllabus by clicking the download button given on the right side of the table.
Syllabus means that it is an procedure for examination. And it is an outline of the exam to read or to cover the particular topics needed for the preparation. As now a days the competition is very high for this central govt jobs. So this exam syllabus generally prepared by the professionals in the examination sector. They will decide what topics will come under the particular examinations. Here in this page there are syllabus related to different different sectors. Choose correctly and download the needed syllabus content.
Railway exam syllabus
Syllabus for UPSC
syllabus of upsc
Download Options
UPSC Chemistry Syllabus
Download Now
UPSC Geology Syllabus
Download Now
UPSC Geo Physics Syllabus
Download Now
UPSC Hydro geology Syllabus
Download Now
UPSC Engineering Service Exam
Download Now
CDS syllabus
Paper 1 : English

And Paper 2 : General Knowledge

Paper – 3 : Elementary Mathematics :Arithmetic Number System, Algebra, Trigonometry, Geometry, Mensuration, Statistics

NDA Syllabus
Paper-I: Mathematics (Maximum Marks- 300) : Algebra, Matrices & Determinants, Trigonometry, Analuytical geometry of two and three dimensions, differential calculus, Integral calculus & differential equations, Vector Algebra, statistics and probability.

Paper-II: General Ability Test (Maximum Marks- 600) :
Part A – English
Part B – General Knowledge : Physics, chemistry, General Science, History, Geography, Current Affairs.

UPSC CMS Exam Syllabus
Paper 1 : General Ability, General Medicine, Paediatrics.

And Paper 2 : Surgery, Gynaecology & Obstetrics, Preventive Social and community Medicine.

UPSC CPF (AC) Exam Syllabus
Paper 1 : General Mental Ability, General Science, Current Events, Indian Polity & Economy, History of India, Indian and World Geography.

And Paper 2 : General studies Essays and Comprehensions.

UPSC IES/ISS Exam Syllabus
Standard Syllabi, General English, General Studies, General Economics I, General Economics II, General Economics III, Indian Economics, Statistics – I, II (Objective Type), Statistics – III , IV (Descriptive Type),
ssc exam syllabus
exam syllabus for ssc
Download Options
ssc cgl exam syllabus Tier I
Download Now
ssc cgl exam syllabus Tier II
Download Now
ssc je exam syllabus
Download Now
ssc mts exam syllabus
Paper-I: General Intelligence, English Language, Numerical Aptitude, General Awareness

Paper-II: Testing of basic language skills

ssc chsl exam syllabus
Computer Based Examination (Tier-I):General Intelligence, English Language, Quantitative Aptitude , Arithmetic,
statistical Charts, General Awareness.Tier-II (Descriptive Paper)
Tier-III (Skill Test/ Typing Test) Skill Test for Data Entry Operator & Typing Test for LDC/ JSA and Postal Assistant/ Sorting Assistant
ssc gd exam syllabus Constables
Reasoning, General Knowledge/ Current Affairs, Numerical Ability
SSC Junior Hindi Translator
Paper-I: General Hindi
Paper-II: Translation and Essay
ssc stenographer syllabus
General Intelligence & Reasoning , General Awareness, English Language & Comprehension
SSC SI & ASI (Delhi Police, CAPF, CISF) Exam
Paper-I:
General Intelligence & Reasoning General Awareness Quantitative Aptitude English Comprehension
Paper-II:
English Language & Comprehension
It's not at all an easy thing to get a govt job. You can get easily by scheduling the time to revise previous papers, and syllabus. Syllabus plays an important key role to achieve a good job. Professors design this syllabus for the competitive examinations.
Aspirants have to visit TGJOBSNEWS.IN regularly to get latest updates for the government jobs….
Bookmark our site to get latest updates….