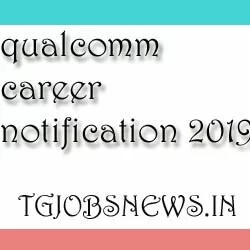 qualcomm career :
qualcomm jobs have given the notification to join as the Front End CAD Engineer. So if you are interested to this qualcomm job vacancy you can apply for this job. Through the link provided below you can directly access the Job notification.
qualcomm jobs india Job Description :
qualcomm is one of the fast growing semi-conductor organisation in India. Making High-end chips with the most advanced technologies. In order to support it's growing needs the qualcomm is building a CAD team for the development. Also for Deployment and support of internal EDA tools, CAD Flows and Methodologies. This will involve innovating new solutions in close collaboration with the design teams, CAD team , and EDA Vendors.
qualcomm career – Qualifications
Education Requirements :
B.E / B.Tech or M.E / M.Tech in VLSI OR Computer Science
qualcomm career – Minimum and Preferred Qualifications
Minimum Qualifications :
2 to 6 years of experience in CAD – Flow / EDA – Tool Development , Deployment and Support
Preferred Qualifications :
Proficient in |Perl and Java , Data Structures , algorithms and Optimisations. Proficient in VLSI front end design steps – Verilog / VHDL, High level design flow, low power UPF Familiatary with Standard Software Engineering practises like Version Control Systems, Configuration Management and Regression Process. Should be Sincere, Fast learner , dedicated and willing to take up new challenges.
All Private Jobs Notifications – Click Here
Click on Website
For notification Click Here
Note: Candidates must check the notification before applying for the job. You cannot afford to apply for the job if you are not eligible for it. For any Queries, ping me in the comments section.
Aspirants have to visit TGJOBSNEWS.IN regularly to get latest updates for the government jobs….
Bookmark our site to get latest updates….
Not only government jobs there are also Private Jobs Notifications.
All Central Government Jobs – Click Here