Qliktag software mobile application developer
qliktag careers 2019 recruitment has given the notification for the recruitment of qliktag software mobile application developers. Candidates who are interested and willing for the jobs can apply for the job after reading the particulars. And here,there is a notification for this private jobs. Read the notification once or twice. If you are confirmed that you are eligible for the job then you can go to the site though the given link below. If you are unable to read the full notification then here it is a simple way. We have already given the details of the post. The details which we have given are very easy to understand. So go through it.
Qliktag careers job details
The company is looking for the mobile application developer to work in offshore development centre in Pune. The company is an innovative software startup working in the working in cutting edge software solutions. The development team are committed to developing stellar products used on a global level.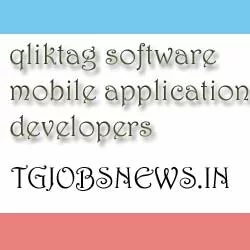 Key Skills
iOS, Android, Objective C, Swift, Android SDK, XML, jSON.
For all the latest Central Government Jobs – Click Here
Experience
2+ years of mobile development experience.
Experience with iOS
Should have the experience in building and maintaining the code for the iOS and Android Plantform.
For the latest private jobs – Click Here
Required skills
Working knowledge of XML, jSON.
Should have good mentoring skills.
The candidate should know how to improve the product performance.
Aspirant should be fast in the bug fixes.
And should be familiar with cloud message API's and push notifications.
For the NOTIFICATION AND APPLY ONLINE
Note: Candidates must check the notification before applying for the job. You cannot afford to apply for the job if you are not eligible for it. For any Queries, ping me in the comments section.
Aspirants have to visit TGJOBSNEWS.IN regularly to get latest updates for the government jobs….
Bookmark our site to get latest updates….