Infosys big data jobs 
INFOSYS has given the notification for the recruitment of Technology Analyst jobs. Candidates who are interested and willing for the jobs can apply for the job after reading the particulars. Read the big data developer jobs notification once or twice. If you are confirmed that you are eligible for the infosys big data jobs then you can go to the direct website link Click Here. If you are unable to read the full notification then here it is a simple way. We have already given the details of the post. The details which we have given are very easy to understand. So go through it.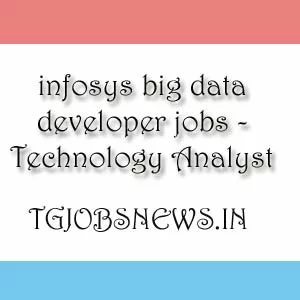 big data developer job description
Title
Description
Role Designation
Technology Analyst
Service List
Unit- IL – Data & Analytics Unit
Primary Location
Bangalore
Experience Range
3 – 5 years
Locations
Bhubaneswar , Chandigarh,
Mysore, Trivandram
big data developer roles and responsibilities
Ensure Effective Design, Development, Validation, and Support activities.
And ensure continual knowledge management.
Adherence to the organizational guidelines and processes.
All other central government jobs and Private Jobs
Technical and Professional Requirements
Minimum of 3 years experience in developing s/w applications including analysis, design, coding, testing, deploying, and support of applications.
Experience building Big Data Solutions using Hadoop and or NoSQL technology.
And experience in one of the following technologies : Spark, Scala, Kafka, HDFS, Oozie, MapReduce, Hive, Hadoop, Cassandra, MongoDB.
Strong skills in designing solutions using Flume, Avro, Thrift.
Extensive experience in developing complex MapReduce programs against structered and unstructured data.
Also experience in loading external data to Hadoop environments.
Click on Website
For notification Click Here
Click on Apply Online
Note: Candidates must check the notification before applying for the job. You cannot afford to apply for the job if you are not eligible for it. For any Queries, ping me in the comments section.
Aspirants have to visit TGJOBSNEWS.IN regularly to get latest updates for the government jobs….
Bookmark our site to get latest updates….