hackerearth careers for the various posts
hackerearth careers recruitment has given the notification for the recruitment of Inbounding Marketing Manager, Product Specialist, Information Security Officer posts. Candidates who are interested and willing for the hackerearth jobs can apply for the job after reading the particulars. Read the notification once or twice. If you are confirmed that you are eligible for the hackerearth recruit job then you can go to the direct website link Click Here. If you are unable to read the full notification then here it is a simple way. We have already given the details of the post. The details which we have given are very easy to understand. So go through it. hackerearth careers Jobs locations are Bangalore, Karnataka.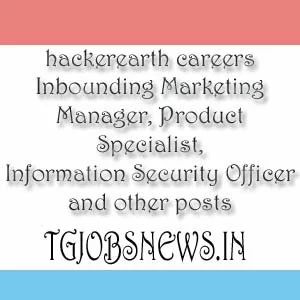 Post Details
hackerearth careers provides enterprise software solutions that helps organisations in their innovation management and talent assessment endeavours. hackerearth recruit is a talent assessment platform that helps in efficient technical talent screening allowing organisations to build strong and proficient teams.
Inbound Marketing Manager.
Product Specialist.
Information Security Officer.
All other latest private jobs – click here
Inbound Marketing Manager
Responsibilities
Own all the inbound assets like blog posts, e-books, white papers, videos, etc for Hackerearth technical recruitment software.
Create quality content which embeds the brand and thought leader ship for the organisation.
Ensure key inbound metrics like organic visits, downloads improve month on month.
Own monthly targets around organic visits.
Work closely with Product Marketing, SEO and Demand Generation.
Maintain a calendar and ensure healthy content cadence.
Plan, share, promote and measure on social channels.
Requirements
2-5 years experience in Inbound Marketing.
At least one year of experience in a B2B SaaS company.
Should be good in Social Media Marketing.
Experience with marketing automation tools – Analytics and Optimization.
Good in Creativity and Design.
Excellent written and verbal communicational skills.
Click here for the Inbounding Marketing Manager Notification
Apply Online
All central govt jobs – click here
Product Specialist
Roles and Responsibilities
Maintain strong relationship with the clients.
Developing a comprehensive understanding of the customer requirements, industry business challenges.
Analyze participation pattern and interest of campus community to consult clients.
To create an end to end plan and execute campus challenges.
Providing creative inputs for the marketing team to prepare custom marketing plan based on the nature of the event.
Device marketing strategy for events tailored to individual customer requirement.
Requirements
0-2 years experience
Excellent verbal and written communicational skills.
Proven experience working with large enterprise organizations.
And proven ability to work under pressure.
Ability to access client requirements.
And ability to drive results in dynamic, complex and fast-paced environment.
Skills
Out standing organization and coordination skills.
Proven ability in prioritising and managing conflicting deadlines.
Experience working in a role that involves client interaction and managing multiple stakeholders.
Click here for the Product Specialist Manager Notification
Apply Online
Information Security Officer
Roles and Responsibilities
The information Security officer is accountable for ensuring appropriate controls are in the place for security of information assets.
Information Security officer safeguards information by seeing that security risks are identified, accessed and accurately reported.
Required skills
University degree or college diploma in the field of computer science and or information Security.
Minimum of 5 years experience in a combination of risk management, information security and IT Jobs, preferable with an enterprise software company.
Experience with cloud computing across virtualized environments.
And experience with contract and vendor negotiations and management including managed services.
Click here for the Information Security Officers Notification
Apply Online
Assistant Manager – Credit collections
Roles and Responsibilities
Primary responsibility is to coordinate with the customers in getting timely collection.
Attend to all customer queries related to invoice and open receipts.
Resolve all un applied receipts and unbilled invoices by working closely with the customers.
Responsible for timely and accurate monthly closing of sales invoicing
Required skills
A Qualification in Commerce (BBA or MBA or B.Com or BBM).
2 years of experience in accounting.
An eye for detail and accuracy. Ability to prioritise and multi task in a busy environment.
Click here for the Information Security Officers Notification
Apply Online
Senior Copy Writer
Roles and Responsibilities
Responsible for writing the copy for website pages and landing pages for Hacker Earth.
Work closely with the designers and developer to get the campaign page live.
Come up with compelling ideas for brand or product campaigns.
Ensures creatives and copy meet our brand guidelines.
Craft insightful stay board for videos.
Ensures that content for product pages is SEO friendly.
Help in development of Collateral for offline and online work.
Click here for the Information Security Officers Notification
Apply Online
Customer Success manager – US shift
Roles and Responsibilities
Keep customer churn at a healthy level, by paying close attention to product usage.
Do the competitive analysis and market research to suggest how the product can be improved.
Working with the inside sales team to understand the requirements of prospective customers and propose optimal solutions to them.
Present product demos to the prospective customers.
Work with the various teams like Product, legal etc. to execute the proposals that have been shared with the customers.
Helping in creating technical proposals for customers.
Click here for the Information Security Officers Notification
Apply Online
For all the other hackerearth jobs notifications Click Here
All the other Hacker Earth Jobs
Note: Candidates must check the hackerearth careers notification before applying for the job. You cannot afford to apply for the job if you are not eligible for it. For any Queries, ping me in the comments section.
Aspirants have to visit TGJOBSNEWS.IN regularly to get latest updates for the government jobs….
Bookmark our site to get latest updates….